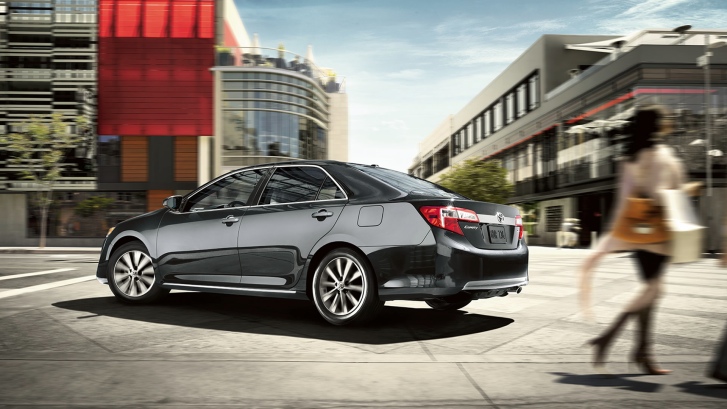 Breaking down the subtle differences between two of the mid-size segment's biggest players to help you make your purchase decision
If you compare the two respective models on paper, they are virtually identical.  A thorough analysis revealed there are a few key differences (which will hopefully help prospective buyers understand exactly where they vary)
Foreward: This comparison is referring to the mid-year updated 2014 Camry, sometimes referred to as the 2014.5 Camry.
The updated model began hitting dealership lots around December 2013.
A quick comparison between the 2014 and 2014.5 Camry models can be see at Toyota's website.
Basically all 2014.5 Camrys now have backup camera as standard equipment.
If you are in the market for a car currently, most Camrys on dealer lots should be 2014.5 models – but double-check with the dealership to make sure.
ENGINE
Both Camry L and Accord LX come with inline-4 cylinder engines.
The Camry's engine is a wee bit bigger @ 2.5 liters (vs 2.4 for the Accord).
The Camry L has 178hp, the Accord LX has 185hp.
The Accord LX also has more torque. 181 ft. lbs (vs. 170 ft. lbs for the Camry).
In laymen's terms the Accord has more 'get-up-and-go' than the Camry.
Accord LX has an EPA estimated fuel efficiency of 27/37 mpg vs 25/36 for the Camry.  These are the EPA's measurements so depending on what type of commute you have, either car could be more or less fuel efficient in real-world scenarios.
Verdict: Purely by the numbers the Accord is the better buy here.
INTERIOR DIMENSIONS
The Accord offers more space for it's driver and front passenger trumping the Camry in all of the major front passenger space measurements.
However, if you spend a lot of time carrying adult passengers in the rear seats you may want to consider the Camry

.  Although the Accord is roomier for its front occupants, conversely the Camry offers more rear passenger space in every major rear space measurement except rear hip room.

Overall the Accord is a little wider than the Camry (71.7 vs 72.8) but shorter in height (57.9 vs. 57.7).
Wheelbases are identical at 109.3 inches.
The Camry is also a little lighter with a listed curb weight of 3,190 lbs vs. 3,254 lbs.
If you'd like to see the hard numbers go to Edmunds.com vehicle comparison tool and click 'Measurements.'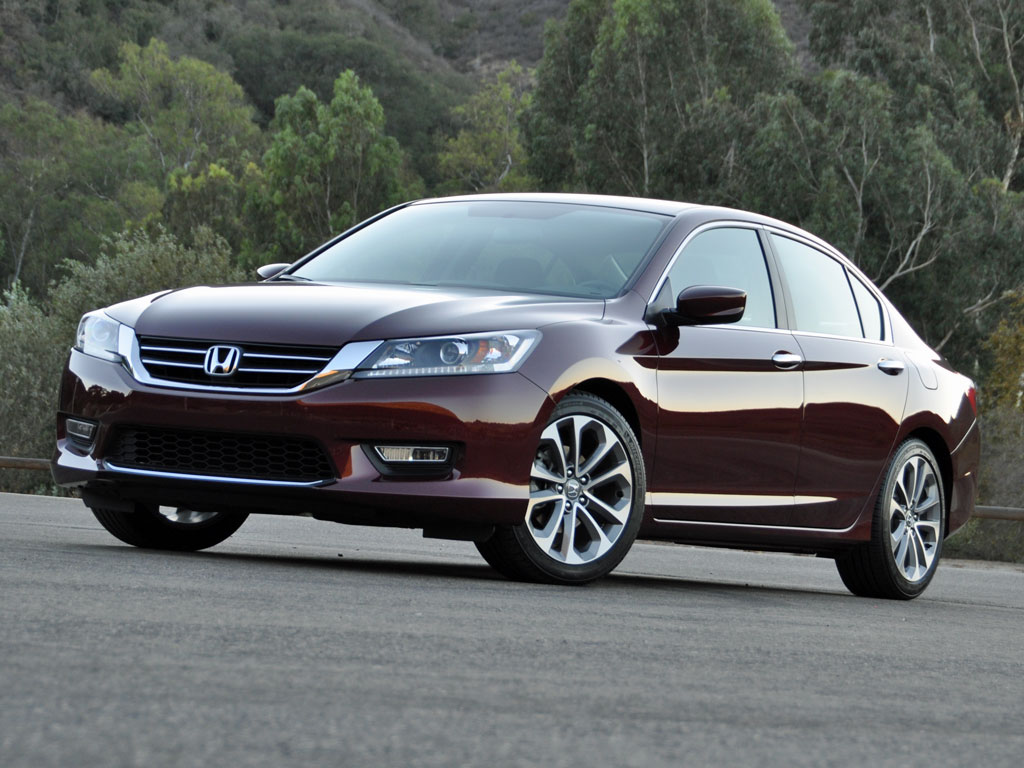 INTERIOR/CONVENIENCE
The Accord LX comes standard with keyless entry remote, the Camry L does not (you would need to step up to the Camry LE for keyless entry remote)
Accord LX has dual zone automatic climate control A/C standard, Camry L has basic A/C
Verdict: It's up to each individual buyer which feature they'd rather have standard
MULTIMEDIA
Both cars come with a multimedia screen (Camry 6.1-in vs. Accord 8-in)
Camry's screen is a touch-screen, Accord's is not (you need to upgrade to the EX-L model or above for a touch-screen)
Camry has 6 speakers standard, Accord has 4 (Honda specifies the Accord LX comes with a 160-watt system, Toyota's power output is not published)
The Accord LX has a SMS text message function
Camry L's Entune Audio specifically mentions iPod control, the Accord's i-MID does not (but does has a USB audio interface)
Accord LX has Pandora compatibility listed as a standard feature (not sure if the Camry is also compatible with Pandora standard by use of its USB connection)
Verdict: Both vehicles come with an impressive multimedia display and audio system standard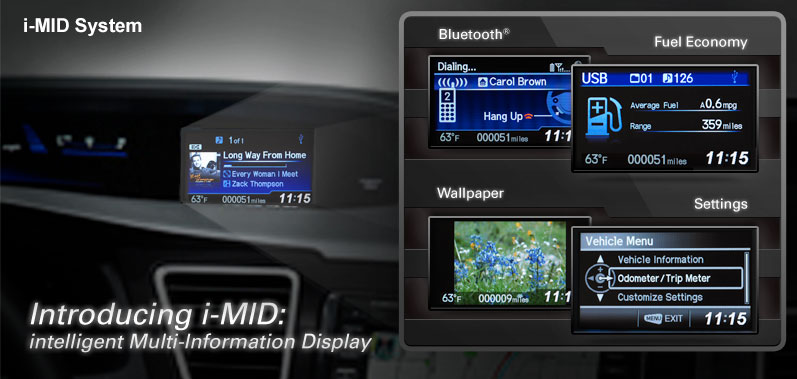 SAFETY
Both cars come with an impressive list of safety features standard:
EBD (electronic brake-force distribution)
Brake assist
The Camry has one standard safety feature the Accord does not called Smart Stop Technology (SST)
SST prevents the car from accelerating when both accelerator and brake pedals are pressed at the same time
The Camry comes standard with 10 airbags, the Accord has 6
The 4 airbags the Accord does not have that the Camry has are: front passenger knee airbags and rear seat-mounted side airbags
Verdict: Both cars are very safe, those frequently carrying rear passengers may give a slight edge to the Camry
PRICING
If you look both models without any options, the Accord LX is cheaper, but that would be with a manual transmission.
Most buyers will be comparing the Camry L which comes standard with a 6-speed automatic against the Accord LX with a CVT automatic transmission.
This makes the Accord LX $300 more than the similarly equipped Camry L ($23,235 vs. $23,545).
Verdict: Small edge to Toyota but $300 isn't much in the grand scheme of things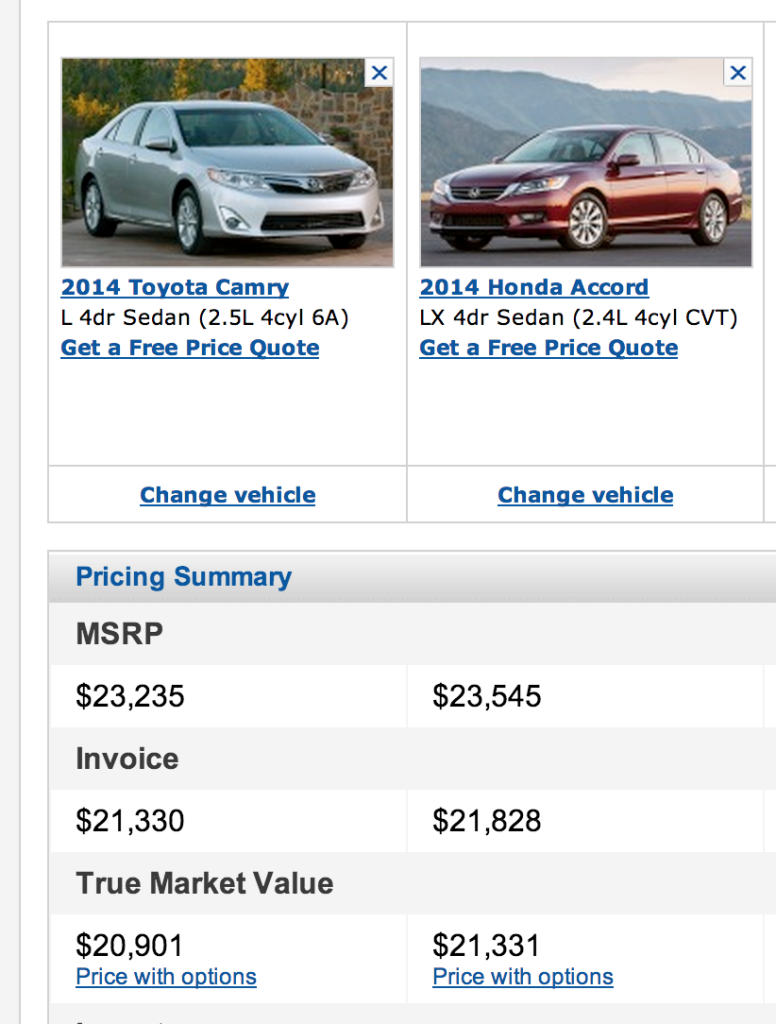 SUMMARY: The Toyota Camry was the best selling car in the US last year (2013) with over 400,000 units sold.  The Accord wasn't far behind at roughly 360,000 units sold.  It's easy to see why each of these models are so popular.  They offer a great list of standard features at a very affordable price point – not to mention they are loaded with safety features, a strong consideration for those with families.  Automotive journalists have gone on record saying the Accord is more fun to drive.  I'm not sure how much of a difference this makes in this segment of the automotive market.
If you can get the car at invoice price (with no options), your looking at roughly $23,650 OTD (out-the-door, a price which includes, tax, title, license and fees).  Assuming a 20% downpayment and a 60 month loan with 0% APR and your looking at just over a $300 a month payment – reasonable for most on modest incomes.
About the Author: Daniel Kim is a graduate of Coventry University's Automotive Journalism Master's program. He has worked at Ferrari North Europe, Evo magazine, Autocar and Formula Drift.